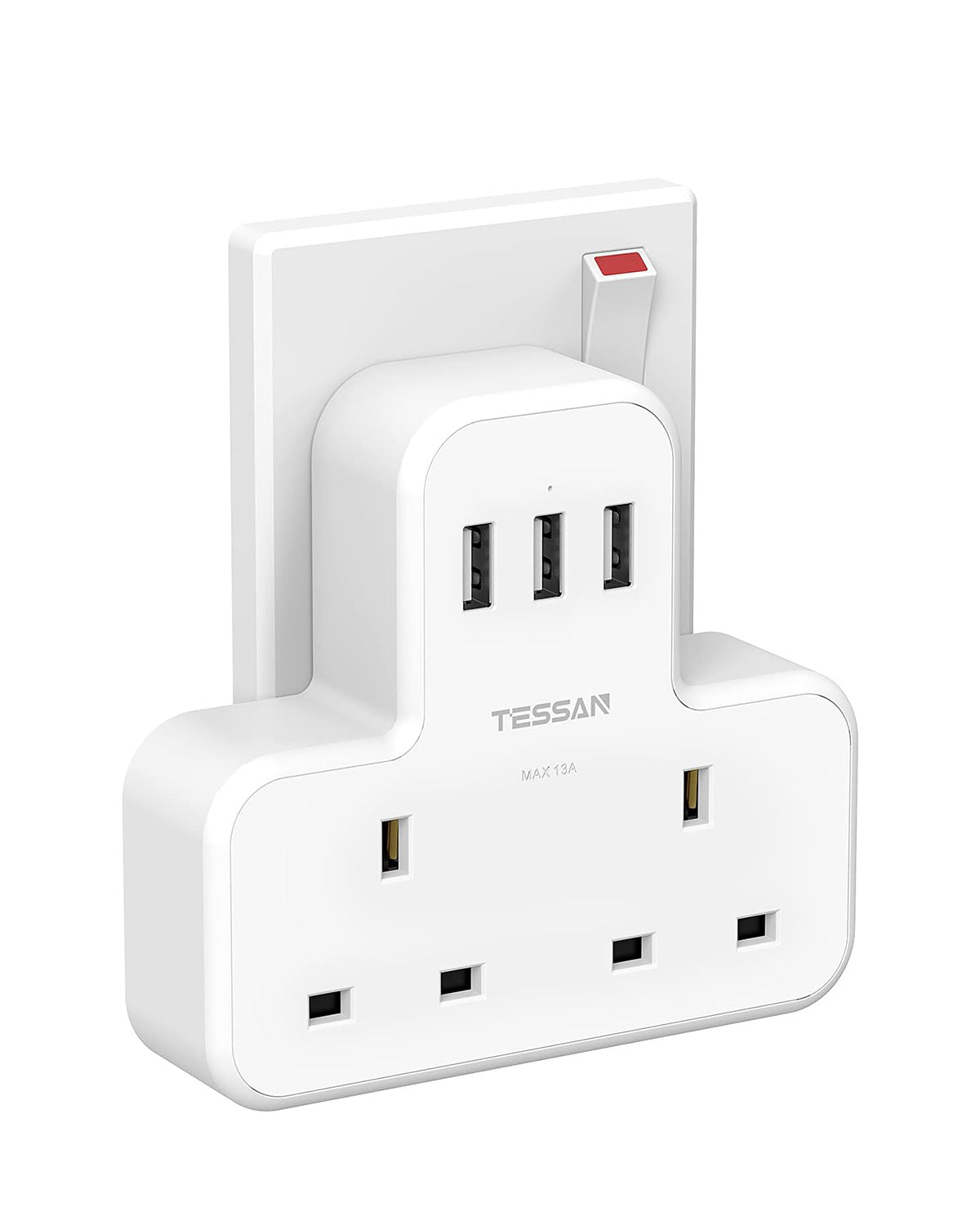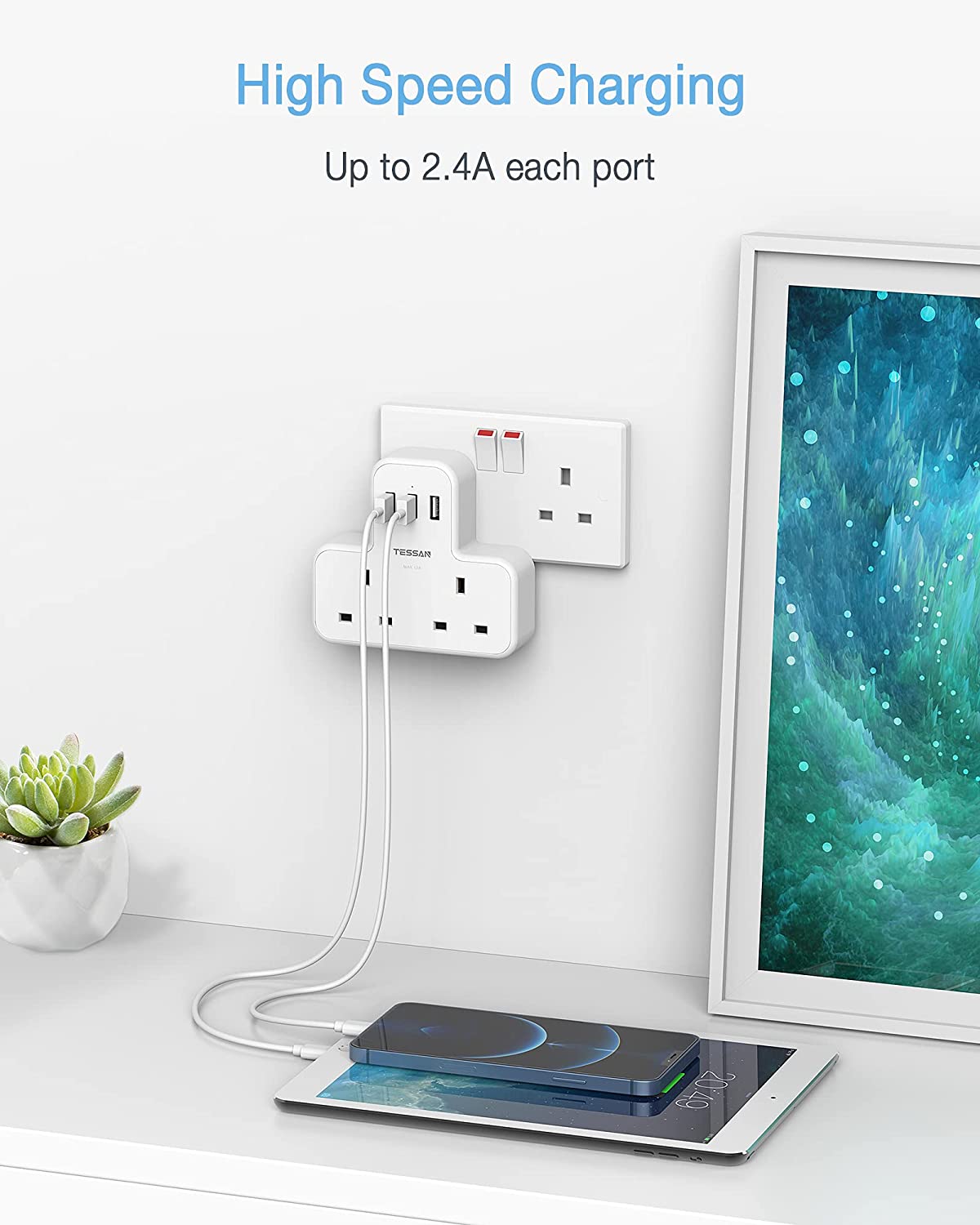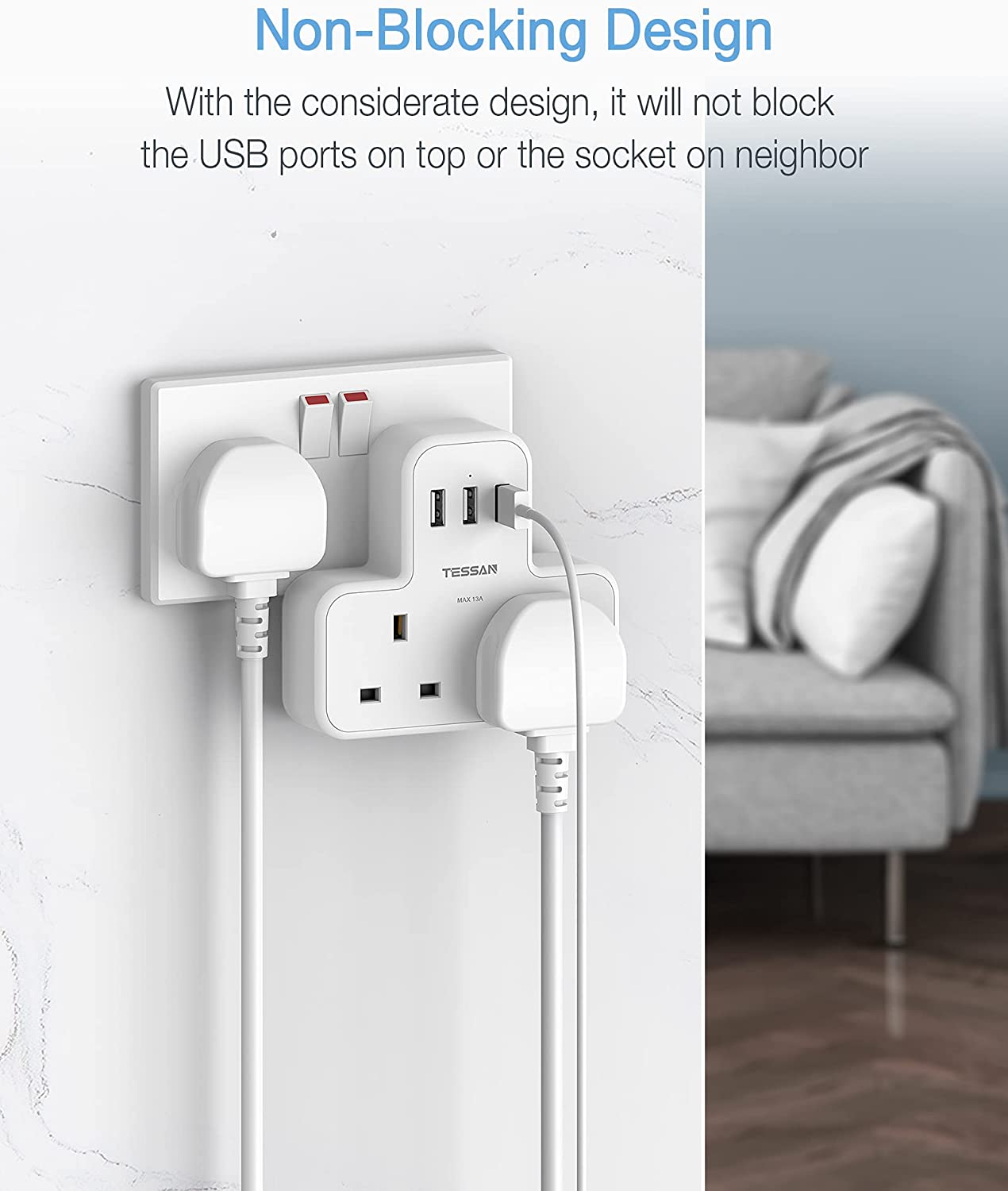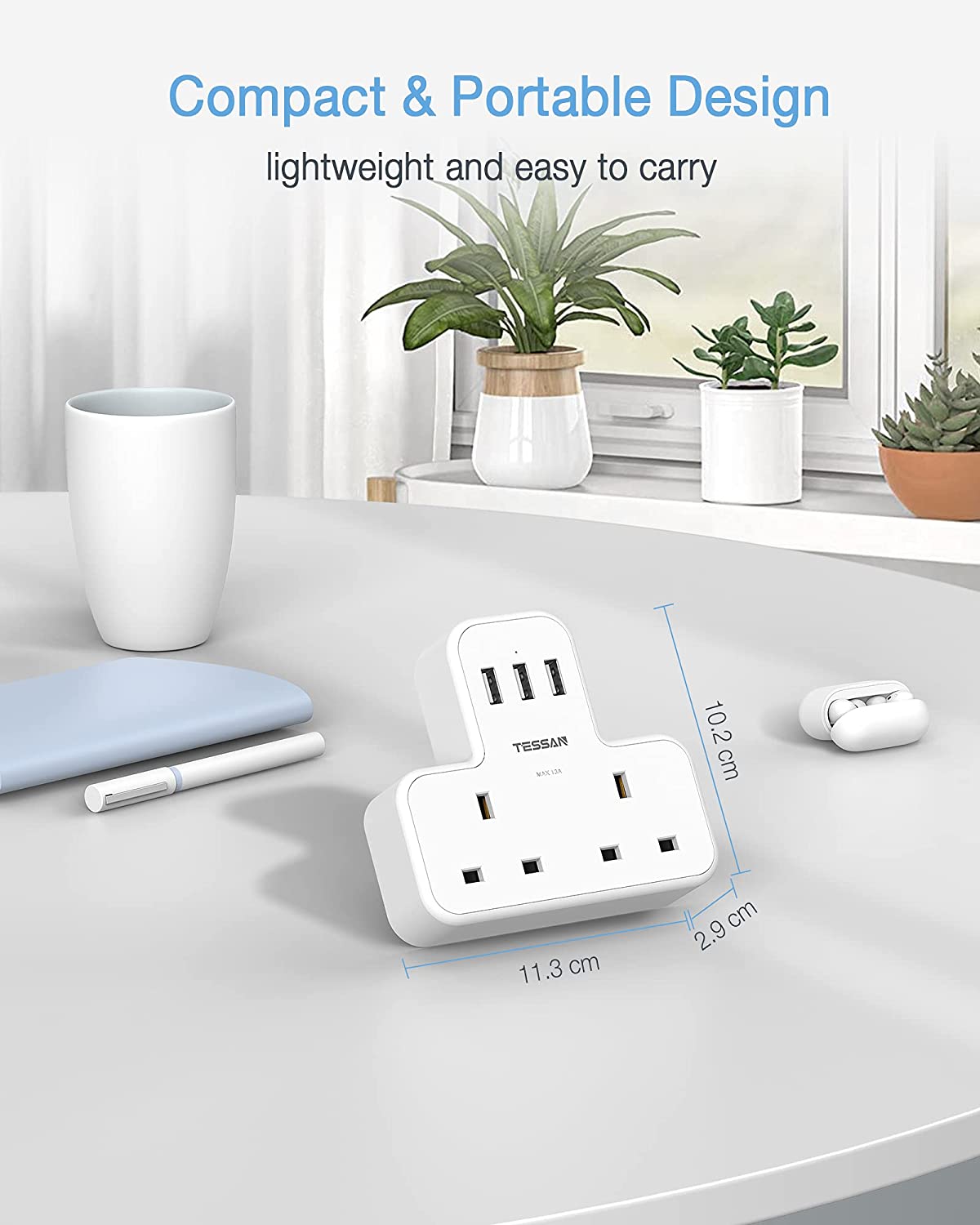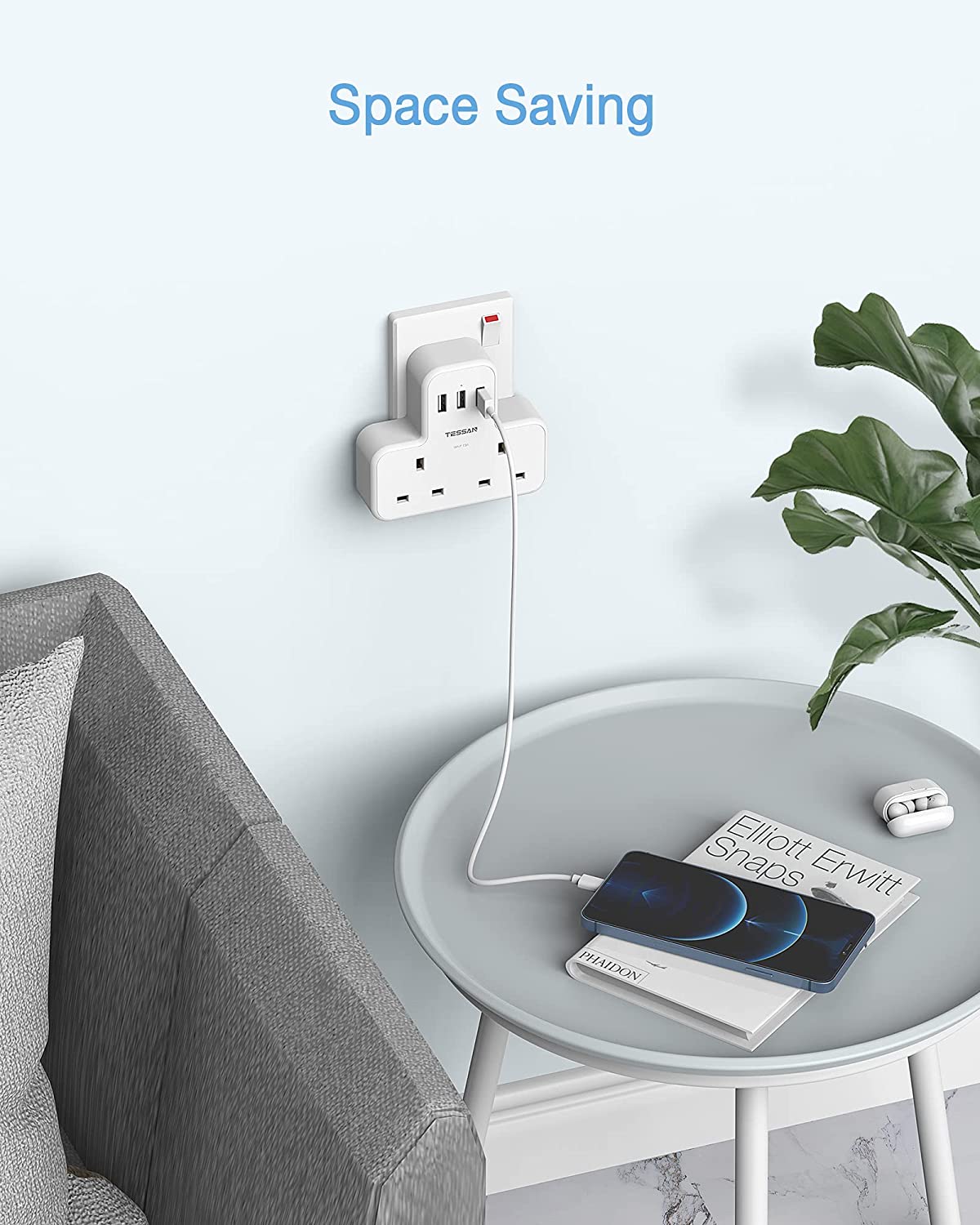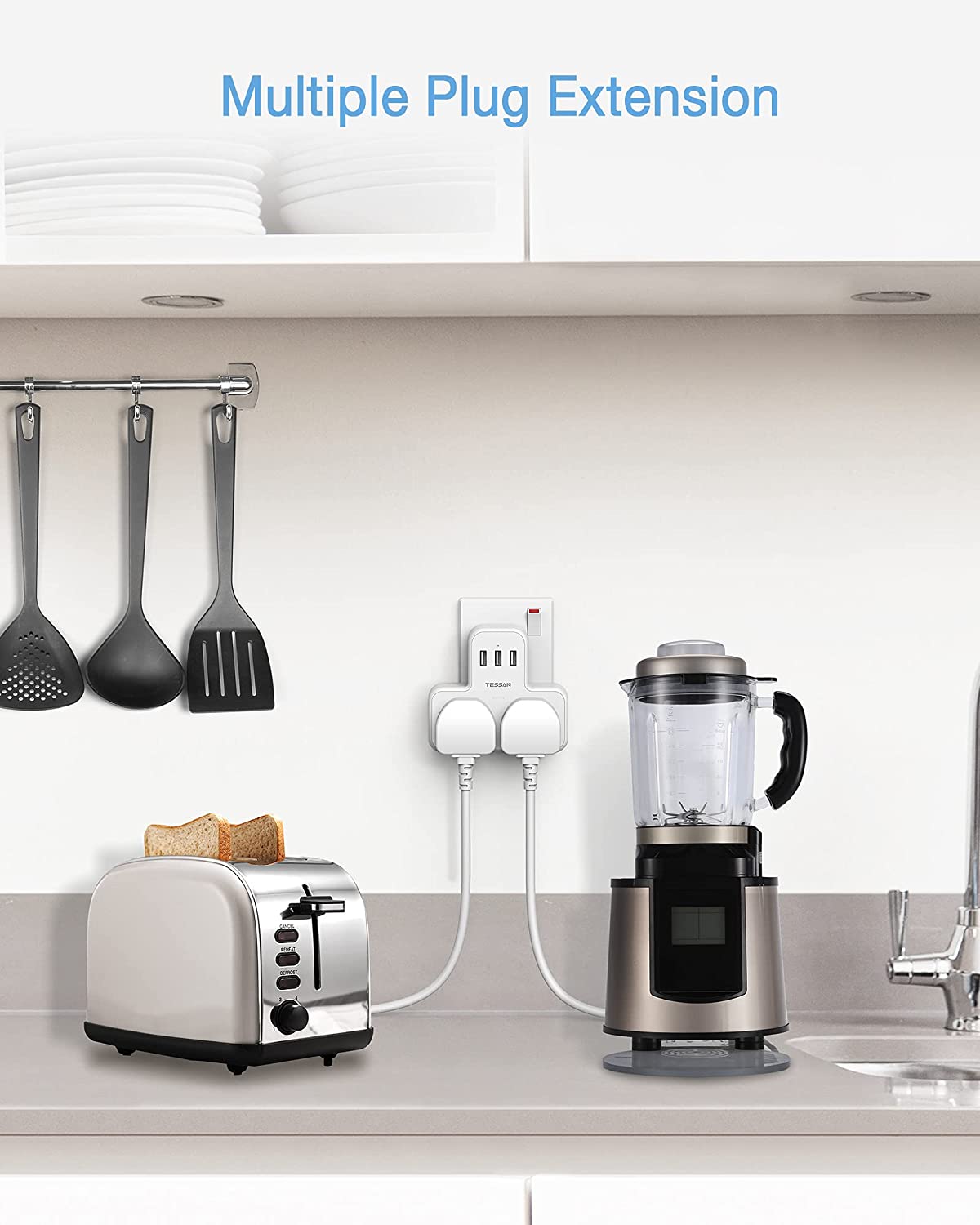 Multi Plug Extension 2 Way Plug Adapter 3 USB ports
Back to School Sale
Over £39.00 Save 10% OFF!
Over £69.00 Save 15% OFF!Recommended
Over £149.00 Save 20% OFF!
Trusted Delivery
TESSAN Multi Plug Extension
This double adapter plug uk has 2 AC outlets, rated for 13A, 250V, 3250W
3 USB ports provide a total of 3.0 amps of power. Our multi plug adaptor also comes with built in device detection to ensure fast charging.
About This Item:
Multi Plug Extension: This outlet extender features 2 grounded AC outlets and 3 USB ports, ideal for charging indoors without bulky extension cords. 1 adaptor for 5 devices, Max capacity up to 3250W(250V/13A)
USB Wall Charger: 3 USB ports can detect your devices and deliver the charging speed up to 2.4A for a single port (3.0A total). Ideal for cell phone, tablet, etc. The indicator will let you know wheter the plug power is on or off
Space Saving: This two plug extension has a compact design, which creates a charging station and will not block another socket in the same row. No more need to plug in a lot of power adapters
Easy to Use: Just plug in any UK power socket, you can charge up to 5 devices at a time. You can pack it along with your other travel stuff or using it in your home, office, bathroom, kitchen, bedroom, bedside, or school
Ideal Choice: Everybody needs extra USB chargers. Simply plugin and use. Get rid of your bulky power strips on the floor or desk along with their cable mess
5 IN 1 Electrical Plug Extension
2 AC outlets allow you to plug in 2 bulky 3 prong plug adapters simultaneously. 3 USB ports on the front for charging your cell phone, tablets, Bluetooth speakers, or smartwatches.
Compact Design
TESSAN double plug adaptor is palm size and ultra light. Helping you save your briefcases or luggage space, making it suitable for travelers, businessmen, travel families. No need to install just plug the USB outlet into the multiplug.